Music
"Praise Him in His mighty expanse. Praise Him for His mighty deeds; Praise Him according to His excellent greatness….Let everything that has breath praise the Lord."  – Psalm 150 NASB
Every other week, praise and worship is lead by a group of live musicians. On the alternate weeks, music is played through soundtracks from a variety of recording artists.
Most music incorporated in the praise and worship time includes songs by Chris Tomlin, Lenny and Varda, Ted Pearce, and Paul Wilbur, and even some originals by the ARIEL band, Netzerim.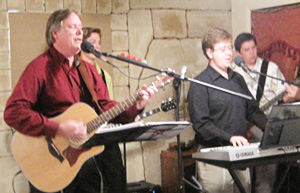 In either case, music at ARIEL begins with upbeat and energetic congregational "praise" songs, and then transitions into more of a personal "worship" time between individuals and the Creator.
All music aims to exalt our God, YHVH, while respectfully honoring His Messiah, Yeshua.