Prayer
"O Lord, open my lips, that my mouth may declare Your praise." Psalm 51:15  (NASB)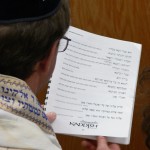 ARIEL embraces the custom of prayer in several different applications. Liturgy (traditional Hebrew prayers) is one opportunity for us to come closer to YHVH. Prayers are read from a "siddur," or prayerbook, and are presented in English and Spanish, with transliterated Hebrew for ease of reading.
You can download a PDF version of the Siddurs here for your use at home: English Siddur | Spanish Siddur
Most of the liturgy we incorporate is derived directly from scriptural passages found in the Torah and the Psalms. Some of the most commonly recited prayers are listed below with the scripture references included.  Click on the names of each below to hear the prayer in both English and Hebrew.
Shema – Deuteronomy 6:4
V'ahav'ta – Deuteronomy 6:5-9
V'shamroo – Exodus 31:16-17, Isaiah 66:22-23
Ma Tovoo – Numbers 24:5, Psalm 26:8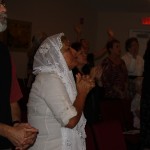 There are also a number of groups which gather together and lift up requests to our Father in Heaven.
Oftentimes, the ladies gather together with the dance team for a brief time of sharing prayer requests and lifting up individuals in prayer.
The men's prayer group, led by Rabbi Paul, gather together in the back room before Shabbat service to commit the time of worship to Him.
We also have an email prayer group. This is a great way to encourage a stronger prayer life throughout the week as we lift each other up and submit our requests to the Father. For more information, please see Rabbi Paul.
We strive to accomodate to both Hearing and Deaf, Spanish and English alike. We have trained interpreters in Spanish and in ASL who are ready and available to accommodate any who wish to participate.